Knight Lab Studio is an interdisciplinary class where Northwestern students, faculty, and professional staff work together at the intersection of storytelling, design, and technology: all media and platforms are fair game. As we work on these problems, we produce cutting-edge digital work, research, and thought — innovating across every part of the media-making process.
Our process combines user and audience research, design thinking, critical and analytical work, iterative building, storytelling, new technology, and a healthy dose of experimentation--often within the confines of a single, specific problem.
Applications for the Winter 2019 Studio class are closed. We can let you know when we announce the next round of projects!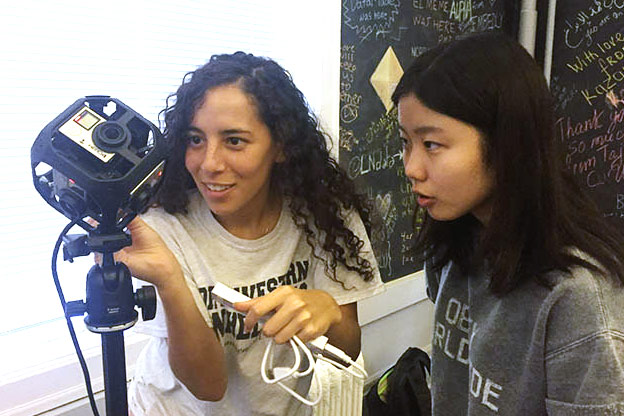 Join Us
Build new tools and tell new stories.
Each quarter, we pull together multidisciplinary teams of Northwestern students, faculty, and professionals to collaborate on projects we believe are important for the future of media. That could mean everything from making obscure data more available to journalists to solving questions around how to best navigate space in virtual reality. The Lab places students at the center of these important problems for 10 weeks. We work together to identify problems and to find solutions.
The class is a team-based, cooperative lab experience for students who want to create and explore new tools, stories, story forms, and physical devices.
Our most successful students are driven and motivated; they possess the curiosity and determination to drive and sustain a project from start to finish. They are comfortable with ambiguity, and have a strong desire to identify lines of questioning and paths to find the answers. We expect students to spend at least six hours a week on the project outside of class, preferably with your team, preferably in the Knight Lab space. Synthesizing the work you do and communicating it clearly to your teammates and to the instructional team will be crucial; you should expect to spend a portion of each week doing this.
The class is cross-listed as JOUR 342/442, COMM 395 and EECS 397/497. For Winter, it meets Tuesday and Thursday 2:30-4:20pm. Applications are due by Nov. 7th at midnight.
Applications for Winter 2019 are closed.
---
Frequently asked questions
When are Applications Due?

Applications are due by midnight on Nov. 7th.

When will I know if I got in?

We are hoping to let students know 1-2 days after the deadline (Nov. 7th).

When is the class held?

Tues/Thurs, 2:30-4:20pm.

What does this count for?

You can take this course for JOUR 342/442, COMM 395 or EECS 397/497 credit.

I'm not sure I'm technical enough.

Some, but not all, of our projects require technical know-how. And all of our projects have important non-technical roles.

I applied last time but didn't get in.

Ugh, that sucks. But we'd love for you to try again! We admire tenacity, and a new round of projects requires a new round of people.

How long is your application?

It's low-key and takes about 8 minutes to fill out.
Project Results
Prototypes, research, guides and presentations from projects that have run in the Knight Lab Studio.
Projects
Projects that have run in the Knight Lab Studio.