Knight Lab Studio is an interdisciplinary class where Northwestern students, faculty, and professional staff work together at the intersection of storytelling, design, and technology: all media and platforms are fair game. As we work on these problems, we produce cutting-edge digital work, research, and thought — innovating across every part of the media-making process.
Our process combines user and audience research, design thinking, critical and analytical work, iterative building, storytelling, new technology, and a healthy dose of experimentation--often within the confines of a single, specific problem.
Applications for the Spring 2018 Studio class are closed. We can let you know when we announce the next round of projects!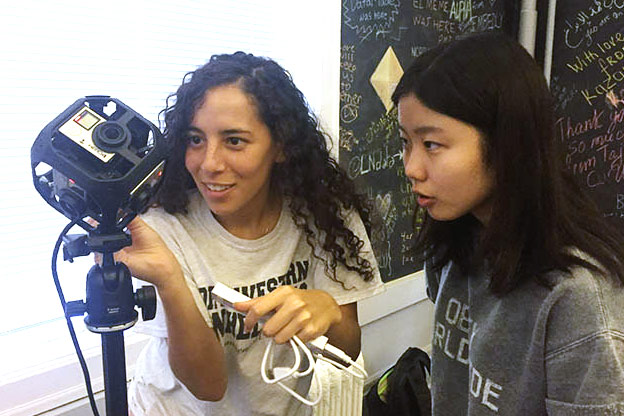 Upcoming Projects
Knight Lab Studio projects running in Spring 2018.
Augmented Reality Visualization Tool
Based on the outcomes of our a Exploring AR Visualizations project in the Winter, this project will take the unique forms of visualizations discovered and develop a tool that makes it easy for storytellers to build and embed augmented reality visualizations in their stories and projects.
Civic Engagement with City Bureau
As local news organizations shrink, many civic advocates fear that no one will be monitoring the day-to-day processes that make city governments run. As part of their innovative approach to closing news gaps and promoting civic engagement, Chicago's City Bureau has developed their "Documenters" program to train citizens to observe and record public meetings. As they develop this team of citizen journalists, they are now considering the complementary question: what is the most effective way to make the work they produce available and useful to Chicagoans?

For this project, the Northwestern student team will conduct design research and prototyping to explore solutions. Students will be expected to be in close contact with City Bureau's team, with current documenters, and with engaged citizens who want to stay informed about what's happening at the heart of these civic processes. Students should be prepared to go out into Chicago to meet with these people face to face for interviews, observations, and prototype testing.
Creative Co-author is a creative writing enhancement tool that focuses primarily on pounding out the first draft. It is type-ahead cranked up to eleven. It types ahead, lurks behind, and generally peers over your shoulder while you pound out words in a speed-draft writing reverie.

Co-author does not write for you, but equips you with tools to forge ahead, getting your ideas out onto the page. Using technology similar to the way type-ahead features work, Creative Co-author will suggest words and phrases along the way as you spill your guts into something that might resemble a first draft. Words are not merely suggested in type-ahead form, but are provided in a unique interface that facilitates and encourages rapid changes to the text, both ahead and behind.
While Artificial Intelligence is all the buzz, there are a lot of opportunities for technology that augments human intelligence instead of replacing it. An important but time-consuming part of editorial review is verifying all facts in a story. Is there a way we can augment the capabilities of writers and editors to make this work faster and better? Building upon promising results in the Winter edition of the studio class, we will continue developing a system which makes humans more effective in this phase of publishing a story. This project will be a combination of theory and practice: the focus will be on developing a functional system that is as ready for release as possible, but we will keep our eyes out for "stretch" opportunities and invest some time exploring how they might take shape.
Information Spaces in AR/VR
An experimental design project that explores an emerging concept of information spaces. This concept is behind Microsoft's pivot to create future Windows operating systems that exist in mixed reality headsets. Students will explore the concept of a news/information app that exists in AR and/or VR. For example, a political news feed might exist on a wall in your living room, and breaking news would appear on a coffee table, twitter reactions surround the coffee table on the floor. Students will also explore the same concept in a virtual environment.
Oscillations: Immersive Virtual Experiences in the Performing Arts
Based on the outcomes of Oscillations project in Winter quarter, this project will continue exploring using the latest VR production techniques to create engaging VR experiences. Students will record performances using motion capture and use machine learning to teach a computer to improvise a performance.
While Twitter has long been known for the limited length permitted for tweets, in reality, users have developed a pattern known as a "tweetstorm," in which a big idea is presented in a series of linked tweets. Many of these tweetstorms are as interesting as op-ed columns or medium posts, but they are at risk of being lost in the sea of tweets. This project will address the question: how might we better surface high quality tweetstorms for a broader audience?
Applications for Spring 2018 are closed
Each quarter, we pull together multidisciplinary teams of Northwestern students, faculty, and professionals to collaborate on projects we believe are important for the future of media. That could mean everything from making obscure data more available to journalists to solving questions around how to best navigate space in virtual reality. The Lab places students at the center of these important problems for 10 weeks. We work together to identify problems and to find solutions.
The class is a team-based, cooperative lab experience for students who want to create and explore new tools, stories, story forms, and physical devices.
Our most successful students are driven and motivated; they possess the curiosity and determination to drive and sustain a project from start to finish. They are comfortable with ambiguity, and have a strong desire to identify lines of questioning and paths to find the answers. We expect students to spend at least six hours a week on the project outside of class, preferably with your team, preferably in the Knight Lab space. Synthesizing the work you do and communicating it clearly to your teammates and to the instructional team will be crucial; you should expect to spend a portion of each week doing this.
The class is cross-listed as JOUR 342/442, GEN_ENG 395 and EECS 397/497. For Winter and Spring 2018, it meets Tuesday and Thursday 9:30-11:20am.
Frequently asked questions
When are Applications Due?

Applications are due by midnight on Feb. 19th.

When will I know if I got in?

We are hoping to let students know by Feb. 20th.

When is the class held?

Tues/Thurs, 9:30-11:20am.

What does this count for?

You can take this course for JOUR 342/442, GEN_ENG 395 or EECS 397/497 credit.

I'm not sure I'm technical enough.

Some, but not all, of our projects require technical know-how. And all of our projects have important non-technical roles.

I applied last time but didn't get in.

Ugh, that sucks. But we'd love for you to try again! We admire tenacity, and a new round of projects requires a new round of people.

How long is your application?

It's low-key and takes about 8 minutes to fill out.
Project Results
Prototypes, research, guides and presentations from projects that have run in the Knight Lab Studio.
Past Projects
An archive of projects that have run in the Knight Lab Studio.
A Tool for Creating Shareable, Embeddable WebVR Stories
This team is looking at how to accommodate image formats from a variety of popular 360-degree cameras, including iPhone panoramas. The goal is to make a tool not only for journalists but also for any storyteller looking to tell a story in VR.
Audience Engagement and Onboarding with Hearken
Students are working closely with the team at Hearken, and are gaining valuable insights into how important audience engagement is to our media landscape.
Conversational Fact Checking
The goal would be to provide factual verification of the news that supports further questions about the context (history, alternative points of view, evidence, etc.) of a news story and/or quote. The challenge would be to provide immediate access to the facts in real or semi-real time.
Crowdsourcing for Journalism
Many important news stories are buried amidst huge numbers of documents. And sometimes, those documents are hard for news organizations to process, either because of the sheer number, or the formats in which the documents are published.
Environmental Reporting with Sensors II
Sensor journalism uses sensors to collect information about our environment. It opens new possibilities for journalists enabling them to collect and process data that might not be available or at a level of detail not previously available.
Environmental Reporting with Sensors
Sensor journalism uses sensors to collect information about our environment. It opens new possibilities for journalists enabling them to collect and process data that might not be available or at a level of detail not previously available.
Exploring Augmented Reality Visualizations
An experimental design project that explores visualizing data in three dimensions for augmented reality. Visualizations that can be examined and inspected by physically getting closer or understood by walking around them, open up exciting possibilities for how we communicate complex ideas and data that reveals hidden truths.
Exploring Data Visualization in VR
An experimental design project, in which we students are analyzing methods for communicating data visually and exploring how those principles might be transferred and transformed in a 360 environment.
Census Reporter is a tool that helps journalists find and understand data from the US Census American Community Survey (ACS), making that data much more easily accessible and digestible. However, it only presents data from the most recent ACS releases.
This team will design an interactive audio/radio story, almost like Choose-Your-Own-Adventure meets Serial. We'll be creating it for the Amazon Echo, a bluetooth speaker outfitted with microphones so that you can talk to it. What makes this device different is that it has no screen; you command it with your voice. This kind of interaction is relatively new territory; how people talk to it, and how to talk back, will be fertile ground for this project.
Since the last elections, public interest in contacting elected representatives about legislation under consideration has boomed. News organizations could do better addressing the public's interest in understanding how their representatives are planning to vote on various issues.
Navigating Virtual Reality
Though many in journalism are excited about VR, few are addressing real issues with making it attractive and interactive for their audience. This story team will explore the idea of making multiple three-dimensional VR photos around a scene and linking them together so that the user can navigate it. They'll be exploring complex VR design challenges, such as how to move around space without disorienting the user and how to easily author interactive environments.
"Open data" might be a buzzword, but there are still significant obstacles to taking advantage of valuable datasets. They can be hard to find, hard to clean, and hard to manage. Human-centered design and a little coding energy can make it substantially easier for people to find stories and explore data. This team will approach a high-value public data set and aim to make the data more usable.
Oscillations: Immersive Virtual Experiences in the Performing Arts
Recent breakthroughs in neuroscience and immersive technologies provide mechanisms for engineering an entirely new mode of performance art — one that engages audiences to unprecedented degrees.
Create a mobile application which could be used by a news organization to involve their audience in covering a festival while having fun.
Photojournalism in 3D for VR and Beyond
In this project, students will use modern approaches to making 3D images both with hardware and software processing.
The podcasting landscape is overcrowded, with larger voices from legacy broadcast media sometimes drowning out new entrants. Browsing for new-to-you, quality podcasts is hard, with shows scattered across distribution platforms. This team will explore how we might provide users a better path to discovering new podcasts.
Imagine that any wall, building floor or doorway could come alive and tell stories. Using projection mapping, many artists, advertisers and industries are already doing it. In this project, students will explore ways in which projection mapping is currently being used and adapt them for journalistic purposes. Students will build and prototype their adaptations.
Students will design, develop, prototype and test one tool for community engagement, with a likely focus on the listening and information gathering stage.
SensorGrid API and Dashboard
SensorGrid is Knight Lab's experimental prototype environmental sensor wireless network system. This project will focus on the design and development of the web API and user dashboard for SensorGrid data management and presentation.
How might we better understand how to reach our audience, delivering the right news at the right moment, or for the right mood, or for the right amount of time?
Exploring Software Defined Radio
Explore SDR and its uses for journalism, education, and citizen science
Storyline: Charts that tell stories.
One of the most common problems we see in data storytelling is how and when to introduce an editorial layer onto a visualization. Mobile devices afford us very little real estate to work with, and interactivity must be limited. But without a "story" layer, users are left without the context to understand what events might impact or inform a trend. They see something going up or down but don't see why. "Storyline" will be a tool for creating stories around line graphs.
Storytelling Layers on 360 Video
In this project, students will film 360 video and explore the best ways to add on that additional layer; students will finish the quarter with two videos, and will document their findings to make their storytelling methods more accessible to others.
The aim of this project is to provide users with a conversational interface to data sets that allow them to first describe what the data is about, where the various elements that they can ask about can be found, and then ask questions about the data.
Writing and Designing for Chatbots
Students will examine conversational user interfaces—that's to say, using chat as a medium to interact with a bot.